Sea Turtle Protection Force
"As a conservation program founded on the principles of community involvement and stewardship, STPF members, with the support of their families are an important part of TREE Foundations conservation work and as a large and diverse group will outlive any one member of TREE. Being a STPF member gives the fisherman and his family a secure future income so he can send his children to school for longer that they may receive a better education and therefore better job opportunities afterwards and can now also afford proper healthcare for his family.
Knowing that people who may have once intentionally have hunted and killed turtles or poached eggs are now working to protect the very species they once harmed shows that with the right attitude and hard work  the seeming impossible can be made possible."
As a community resource working nationally for almost two decades, TREE Foundation has succeeded in bringing about positive change in attitudes regarding the use of ocean resources.
It uses the Olive Ridley as a flagship species to address marine conservation issues and continues to conserve and restore sea turtle populations along the East Indian coastline.
TREE Foundation promotes community involvement in conservation through training and stewardship opportunities. Community members, many of whom were turtle egg poachers, are now involved in sea turtle-nest-monitoring as an alternative livelihood.
Our patrol staff have gained official recognition as Sea Turtle Protection Force (STPF) members by the State Forest Department for their work in patrolling the nesting beaches.
TREE Foundation works jointly with the Wildlife Wing of the Forest Department, the Department of Fisheries and Coastal Security Police of Tamil Nadu, Andhra Pradesh and Odisha and the Indian Coast Guard.
From simple beginnings in 2002, TREE Foundation and has been able to extend and strengthen its community-based sea turtle conservation program covering 106 fishing communities, both large and small, along the east coast.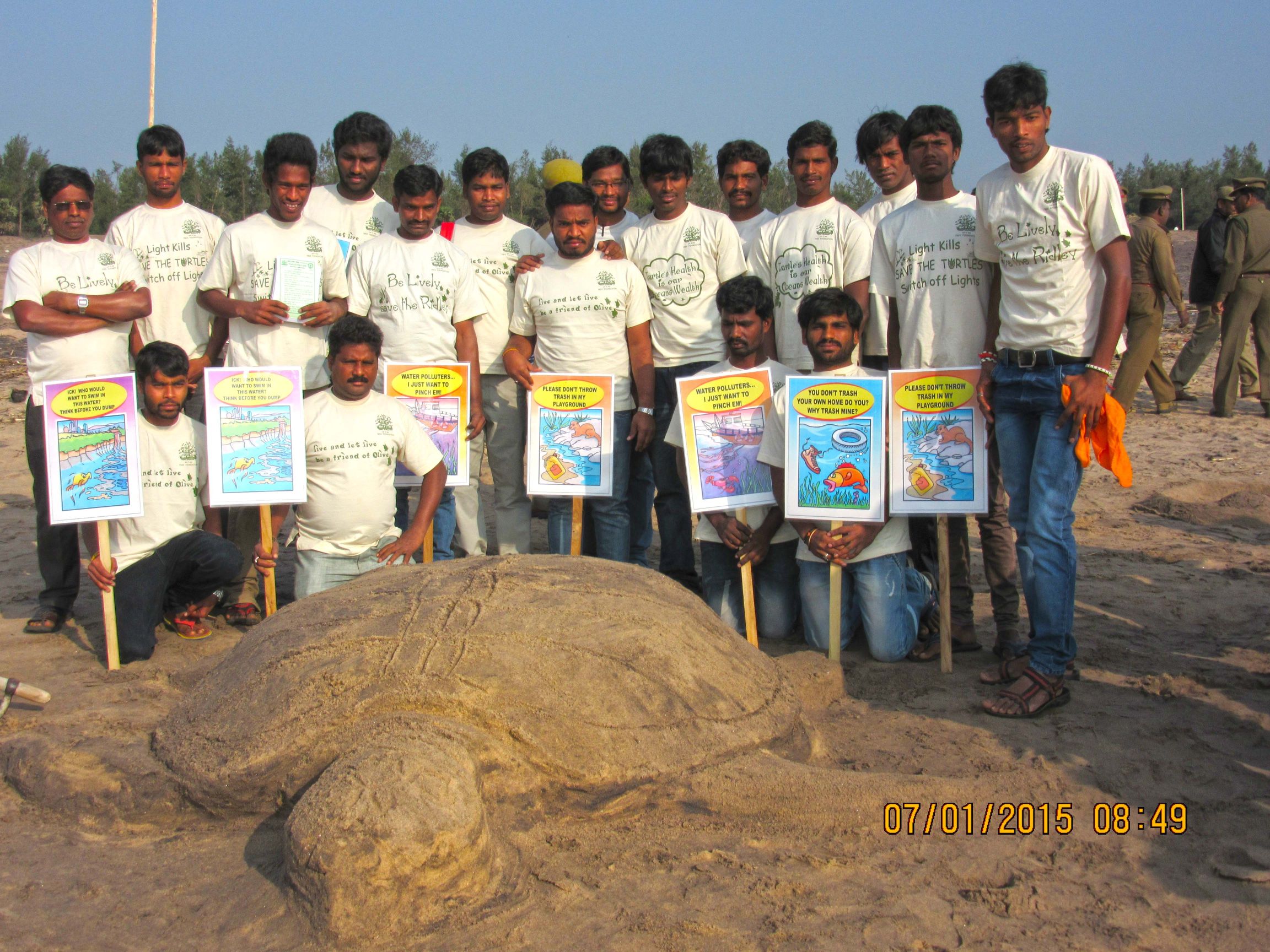 The STPF members patrol the beaches from December to April each year during the breeding and nesting season to:
In-Situ and Hatchery Based Conservation: By trained fishing community youth who help relocate Nests laid near the estuary  to hatcheries to avoid possible inundation. Due to predation threats, nests near human habitation will be protected in-situ. Only nests which may be in danger of inundation and predation or near the estuary will be relocated in consultation with the project investigator.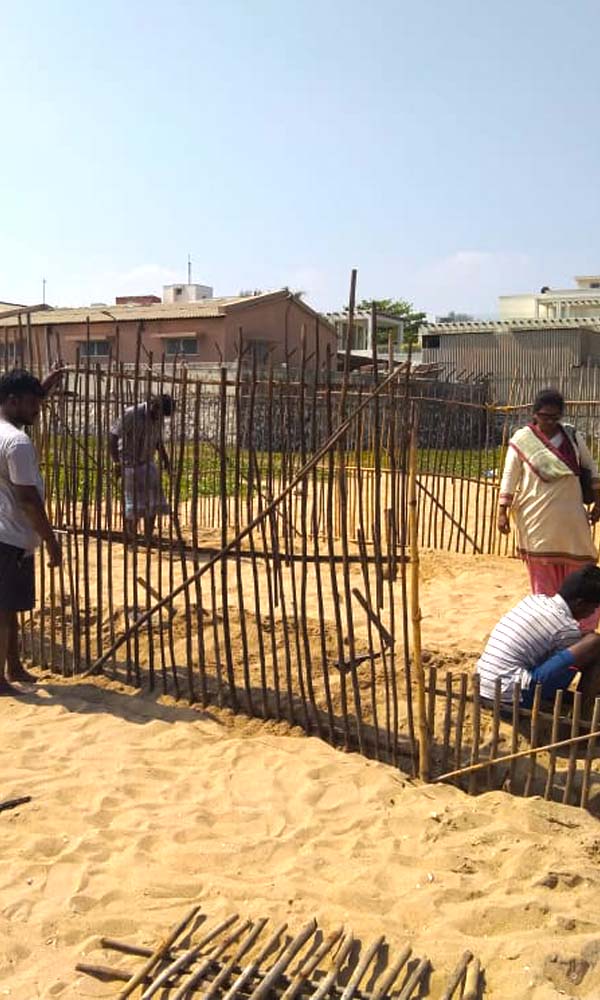 Sea Turtle Protection Force (STPF) members and community volunteers will patrol the beaches throughout the nesting season between January and April, checking poaching, mapping nest locations, recording distance from high tide line, time of nesting, relocating inundated nests, recording environmental parameters, maintaining nest temperature and releasing hatchlings till May.
Reduce Poaching of Nesting Sea Turtles and Eggs: Patrolling will commence based on tide (1-2+/- hours before high tide) during the night and once again around 5 a.m. – twice every night. Regular monitoring l protects the nests from predators and deter poaching of eggs.
Monitoring Data Collection and Archiving: Vegetation, time, tide condition, human activity, threats, lighting, disturbance, nests and emergences, egg chamber, body pit and false crawl will be recorded in the standardised data sheet .Nest locations are GPS marked and continued to be mapped. The community coordinator and conservation coordinator trained in using the GPS  mark all the nest sites. This  gives a clear path for the policy makers to undertake conservation of nesting habitats.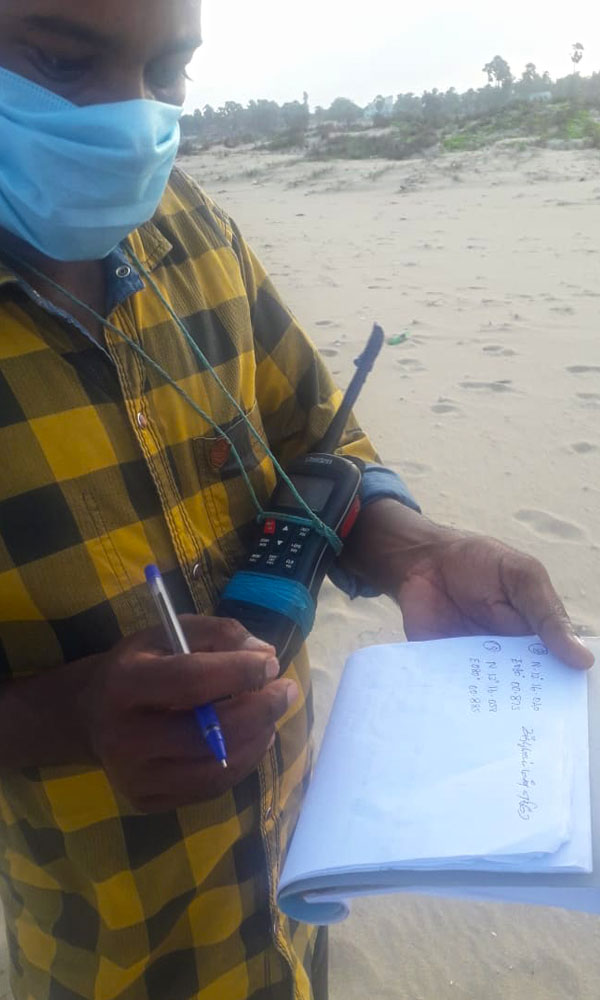 Upon sighting nesting turtles, biometric data is taken, the turtle is tagged and samples collected for DNA recording. All data is recorded in a standardized log book and reported as per existing protocol on a daily basis to the Field Coordinator.
Data regarding nests, nest location, nest if relocated – details of number of eggs/ hatchlings and the name of hatchery is notified by a group message through cell phone to the Ranger, District Forest Officer, Conservator of Forest and to the Project Investigator.
All conservation sites and hatcheries are supervised by State Forest Ranger/officer/fisheries inspector. About 3000 Olive Ridley nests and more than 300,000 hatchlings are safely released/guided to the sea each year through this activity in the entire TREE Foundation Project area. An empowerment meeting will be conducted in advance of the season and monthly review meetings are conducted to share experience and upgrade knowledge.