A committed sea turtle conservationist along the Indian east coast since 2002, she is exemplary for her multi-disciplinary approach. She has a team of 363 'Sea Turtle Protection Force' (STPF) members from 222 marginalized artisanal fishing villages. Together, under Dr. Dharini's guidance, they cover over 700 kms along Tamil Nadu, Andhra, and Odisha coasts. They have protected tens of thousands of Olive Ridley nests in-situ and also through purpose-built hatcheries. Their work and dedication to protecting and preserving life has resulted in the safe release of millions of hatchlings to the sea. STPF members educate other fishers in their villages about the importance of conserving turtles, retrieving ghost nets, reducing pollution, and caring more for their ocean environment in general.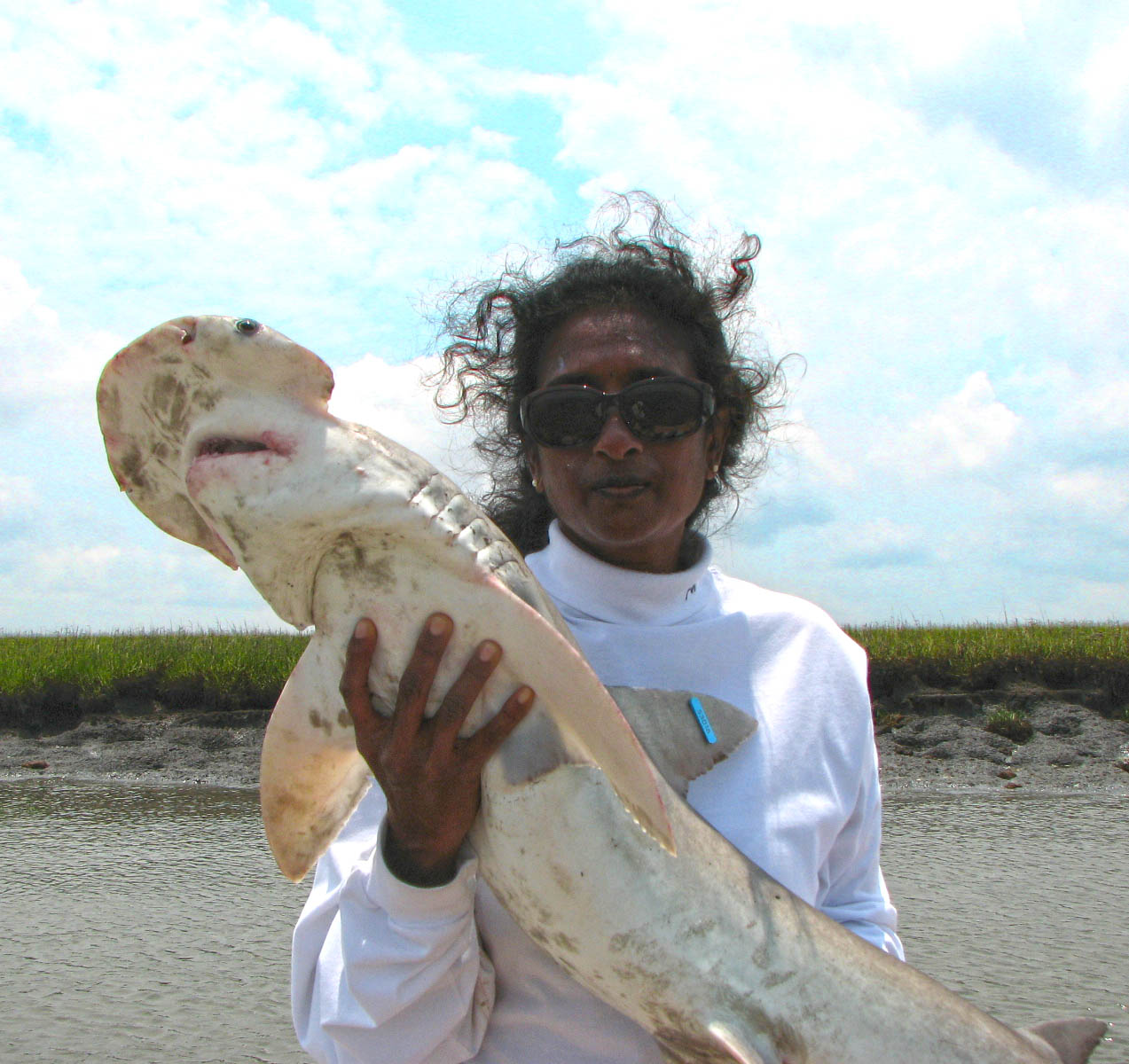 Inspired and guided by Dr Jane Goodall DBE
A commercial artist by profession, Dr. Dharini's career took an unexpected turn one morning back in 2001 December. Whilst taking a morning walk along her local beach she came across the body of a dead sea creature. She enquired from a local fisher what the creature was and learned that it was an Olive Ridley sea turtle. She was informed that these turtles live in the ocean but that the female turtles return to lay their nests along the beaches of the east coast of India.
The disturbing sight reminded her of Dr Jane Goodall DBE's words from a previously seen NG docuemntary. Dr Goodall said 'Every Indivual Can Make a Difference".
Returning home she set about finding out more about these creatures so she could gain a better understanding of her experience on the beach that morning. She learned about the different species of sea turtle worldwide, their lives and how, through human activity, many of the sea turtle populations globally had suffered serious population declines and even risked extinction in some cases.
Possessing a creative mind, Dr. Dharini could see that if something was not done to protect the turtles then in the not too distant future they would become a very rare sight along the east coast and eventually be gone altogether. With so much to learn about conservation and with a background in a completely different area, Dr. Dharini took the brave step of founding an organisation that would dedicate itself to protecting these sea turtles.
Realising the importance of both education and community participation for successful conservation, Dr. Dharini decided to call the organisation Trust for Education and Environment, or as it became known, TREE Foundation.
She returned to the same fisher who had told her about the sea turtle and step by step started to find ways to help protect the turtles. Having a fisherman as a knowledge resource proved invaluable and Dr. Dharini soon found herself growing an organisation that would positively impact upon fishing communities up and down the Tamil Nadu coast, and later Andhra Pradesh and Odisha coasts also.
Trust for Education & Environment: TREE Foundation
A fortutious interaction with Dr. Jane Goodall DBE the person who inspired  Dr. Dharini strengthened her to take her conservation efforts forward and to meet the challenges she would face in this path she had taken in life. She started to build a team of people who would help her protect sea turtles.
Youth from marginalized fishing communities were selected and trained to become 'Sea Turtle Protection Force', or STPF, members. For their efforts in protecting endangered marine life, they would receive a wage that would bring them a degree of financial stability.
With determination and a lot of effort TREE Fouldation slowly began to find its feet. Fast forward to today and TREE Foundation is an internationally recognised and respected conservation NGO. With ongoing programs in Tamil Nadu, Andhra Pradesh and Odisha, TREE Foundation has a network of 363 STPF members who collectively have protected thousands of nesting turtles along east coast beaches and ensured the survival and safe release of almost two and a half million baby sea turtles or 'hatchlings'.
Dr. Dharini has has guided and developed TREE Foundation to be fully inclusive and recognise the importance of all stakeholders in the conservation process. TREE works closely with state Forest and Fisheries departments, the Indian Coast Guard, Marine Police and, as country head for the Jane Goodall Roots & Shoots Program, 100's of schools and colleges throughout the project areas.
Each day brings with it new challenges, there is never an option to just sit back and let things happen however Dr. Dharinis enthusiasm and drive ensure she is up for whatever each and every day may present, giving a voice to the voiceless and protecting those in need of help.
International Biologists & Conservationists she has met over ther years
(Click on image to read more )