A committed sea turtle conservationist along the Indian east coast since 2002, she is exemplary for her multi-disciplinary approach. She has a team of 363 'Sea Turtle Protection Force' (STPF) members from 222 marginalized artisanal fishing villages. Together, under Dr. Dharini's guidance, they cover over 700 kms along Tamil Nadu, Andhra, and Odisha coasts. They have protected tens of thousands of Olive Ridley nests in-situ and also through purpose-built hatcheries. Their work and dedication to protecting and preserving life has resulted in the safe release of millions of hatchlings to the sea. STPF members educate other fishers in their villages about the importance of conserving turtles, retrieving ghost nets, reducing pollution, and caring more for their ocean environment in general.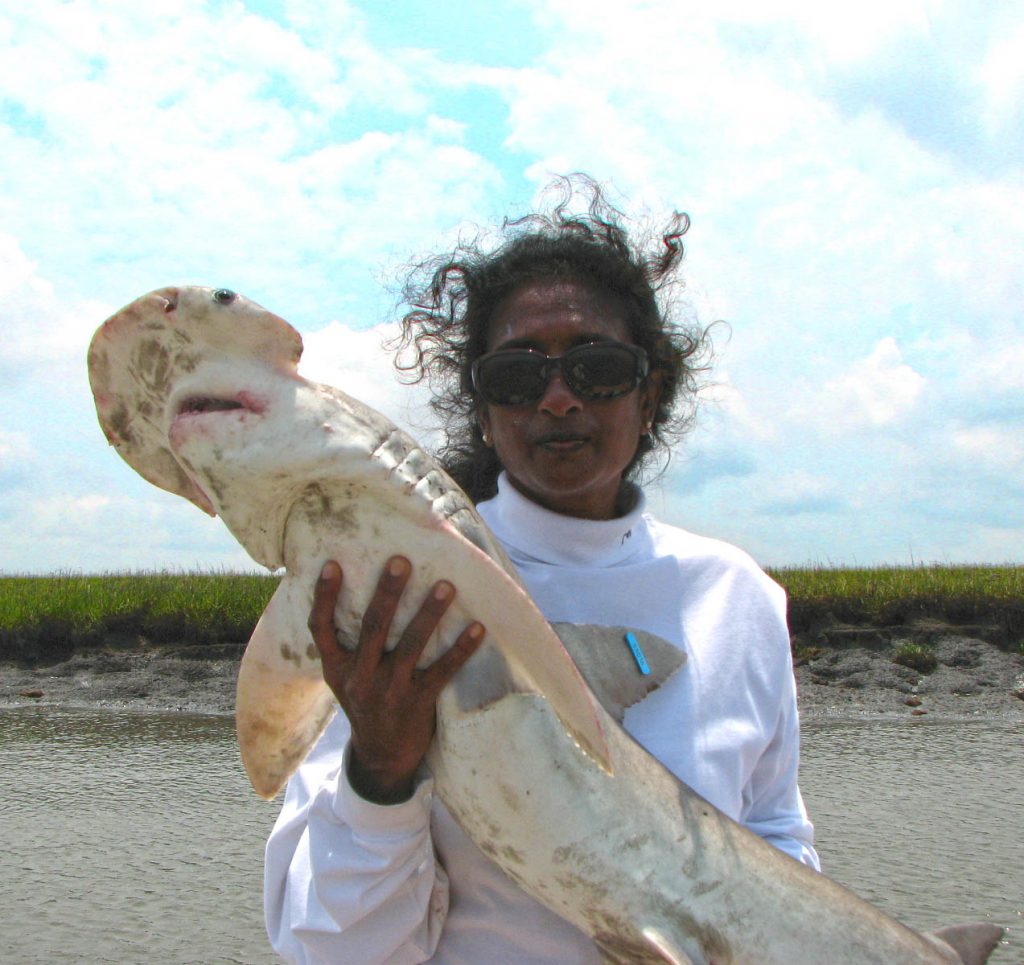 Inspired and guided by Dr Jane Goodall DBE
A commercial artist by profession, Dr. Dharini's career took an unexpected turn one morning back in 2001 December. Whilst taking a morning walk along her local beach she came across the body of a dead sea creature. She enquired from a local fisher what the creature was and learned that it was an Olive Ridley sea turtle. She was informed that these turtles live in the ocean but that the female turtles return to lay their nests along the beaches of the east coast of India.
The disturbing sight reminded her of Dr Jane Goodall DBE's words from a previously seen NG docuemntary. Dr Goodall said 'Every Indivual Can Make a Difference".
Returning home she set about finding out more about these creatures so she could gain a better understanding of her experience on the beach that morning. She learned about the different species of sea turtle worldwide, their lives and how, through human activity, many of the sea turtle populations globally had suffered serious population declines and even risked extinction in some cases.
Possessing a creative mind, Dr. Dharini could see that if something was not done to protect the turtles then in the not too distant future they would become a very rare sight along the east coast and eventually be gone altogether. With so much to learn about conservation and with a background in a completely different area, Dr. Dharini took the brave step of founding an organisation that would dedicate itself to protecting these sea turtles.
Realising the importance of both education and community participation for successful conservation, Dr. Dharini decided to call the organisation Trust for Education and Environment, or as it became known, TREE Foundation.
She returned to the same fisher who had told her about the sea turtle and step by step started to find ways to help protect the turtles. Having a fisherman as a knowledge resource proved invaluable and Dr. Dharini soon found herself growing an organisation that would positively impact upon fishing communities up and down the Tamil Nadu coast, and later Andhra Pradesh and Odisha coasts also.
Trust for Education & Environment: TREE Foundation
A fortutious interaction with Dr. Jane Goodall DBE the person who inspired  Dr. Dharini strengthened her to take her conservation efforts forward and to meet the challenges she would face in this path she had taken in life. She started to build a team of people who would help her protect sea turtles.
Youth from marginalized fishing communities were selected and trained to become 'Sea Turtle Protection Force', or STPF, members. For their efforts in protecting endangered marine life, they would receive a wage that would bring them a degree of financial stability.
With determination and a lot of effort TREE Fouldation slowly began to find its feet. Fast forward to today and TREE Foundation is an internationally recognised and respected conservation NGO. With ongoing programs in Tamil Nadu, Andhra Pradesh and Odisha, TREE Foundation has a network of 363 STPF members who collectively have protected thousands of nesting turtles along east coast beaches and ensured the survival and safe release of almost two and a half million baby sea turtles or 'hatchlings'.
Dr. Dharini has has guided and developed TREE Foundation to be fully inclusive and recognise the importance of all stakeholders in the conservation process. TREE works closely with state Forest and Fisheries departments, the Indian Coast Guard, Marine Police and, as country head for the Jane Goodall Roots & Shoots Program, 100's of schools and colleges throughout the project areas.
Each day brings with it new challenges, there is never an option to just sit back and let things happen however Dr. Dharinis enthusiasm and drive ensure she is up for whatever each and every day may present, giving a voice to the voiceless and protecting those in need of help.
International Biologists & Conservationists she has met over ther years
(Click on image to read more )
Dr Carl Safina's work explores how we are changing the natural world and what the changes mean for human and non-human beings. Carl sees that the durability of human dignity and survival of the natural world will depend on each other; we cannot preserve the wild unless we preserve human dignity, and we cannot conserve human dignity while continuing to degrade nature. His lyrical non-fiction writing fuses scientific understanding, emotional connection, and a moral call to action.

His work has won the Lannan Literary Award, Orion Book Award, National Academies' Science Communication Award; the John Burroughs, James Beard, and George Rabb medals; Pew and Guggenheim fellowships, and a MacArthur "genius" fellowship.

Safina was born to parents whose Brooklyn apartment was filled with singing canaries—his father's hobby. Trips to New York's zoos, aquarium, American Museum of Natural History, and his uncles' boat lit a city kid's early fascination with animals. He began raising homing pigeons at age seven, and spent his teen years training hawks and owls, and immersed in fishing, bird-banding, and camping. Soon these passions took him on adventures in Kenya, Nepal, Greenland, Arctic Canada and eventually to all continents and oceans.

Safina's seabird studies earned him a Rutgers University PhD, then for a decade he worked on overhauling fishing policies, helping restore ocean wildlife. In the 1990s he helped lead campaigns to ban high-seas driftnets, overhaul U. S. fisheries law, improve international management of fisheries targeting tunas and sharks, achieve passage of a United Nations global fisheries treaty, and reduce albatross and sea turtle drownings on commercial fishing lines. Along the way, he became a leading voice for conservation, widening his interests from what is at stake in the natural world to who is at stake among the non-human beings who share this astonishing planet.

Carl Safina's books include Song for the Blue Ocean, The View From Lazy Point: A Natural Year in an Unnatural World, A Sea in Flames: The Deepwater Horizon Oil Blowout, Beyond Words: What Animals Think and Feel, and others. He hosted the 10-part PBS television series Saving the Ocean (which can be viewed at PBS.org). Carl contributes frequently to CNN.com, National Geographic, The New York Times, Audubon, The Huffington Post and others. His most recent TED Talk received a million views in its first month.
Dr. Eugenie Clark, popularly known as The Shark Lady, was an American ichthyologist known for both her research on shark behavior and her study of fish in the order Tetraodontiformes. Clark was a pioneer in the field of scuba diving for research purposes.
Long before "Jaws" scared the wits out of swimmers, Dr. Clark rode a 40-foot whale shark off Baja California, ran into killer great white sharks while scuba diving in Hawaii, studied "sleeping" sharks in undersea caves off the Yucatán, witnessed a shark's birth and found a rare six-gill shark in a submersible dive off Bermuda.
She also swam into schools of man-eating barracuda and had disconcerting encounters with 500-pound clams and giant squid. Despite close calls, she was never attacked, and she tended to make light of the dangers. Indeed, she told of the privileges of exploring an undersea world of exotic creatures and enchanting beauty.
Dr. Clark was an ichthyologist and oceanographer whose academic credentials, teaching and research posts, scientific activities and honors filled a 20-page curriculum vitae, topped by longtime roles as a professor at the University of Maryland and director of the Mote Marine Laboratory in Sarasota.
Blazing trails for women in science; inspiring generations of people from ocean experts to school children; swimming with sharks to learn about them; and founding a world-class marine laboratory that turned 60 in 2015 — this is a snapshot of the life and legacy of Dr. Eugenie Clark.
"Genie" Clark — the famous "Shark Lady" who founded Mote Marine Laboratory in Southwest Florida . Clark, an ichthyologist, was a world authority on fishes — particularly sharks and tropical sand fishes. A courageous diver and explorer, Clark conducted 72 submersible dives as deep as 12,000 feet and led over 200 field research expeditions to the Red Sea and Gulf of Aqaba, Caribbean, Mexico, Japan, Palau, Papua New Guinea, the Solomon Islands, Thailand, Indonesia and Borneo to study sand fishes, whale sharks, deep sea sharks and spotted oceanic triggerfish. She wrote three books and more than 175 articles, including research publications in leading peer-reviewed journals such as Science and a dozen popular stories in National Geographic magazine.
Dr. Sylvia Alice Earle is an American marine biologist, oceanographer, explorer, author, and lecturer. She has been a National Geographic explorer-in-residence since 1998
Sylvia Earle is President and Chairman of Mission Blue / The Sylvia Earle Alliance. She is a National Geographic Society Explorer in Residence, and is called Her Deepness by the New Yorker and the New York Times, Living Legend by the Library of Congress, and first Hero for the Planet by Time Magazine. She is an oceanographer, explorer, author and lecturer with experience as a field research scientist, government official, and director for several corporate and non-profit organizations.
Dr. Daniel Pauly is a French-born marine biologist, well known for his work in studying human impacts on global fisheries. He is a professor and the project leader of the Sea Around Us Project at the UBC Institute for the Oceans and Fisheries at the University of British Columbia.
Dr. Morton is a British Columbia Killer Whale Conservationist. She developed her love for animals at an early age when she explored in the woods with her brother. She is Canadian-American, best known for her 25-year study on Orcas in the Broughton Archipelago in British Columbia.
Dr. Shiffman is a Shark Biologist working to spread the much-needed awareness on sharks though science-based surveys. Save Our Seas Foundation, South Florida, USA
Dr. Foster is widely regarded as South Africa's top documentary filmmaker. With a long experience shooting the relationship with animals and nature
Barbara D. Andrews is a passionate advocate for ocean conservation. She is the legal manager for the California Academy of Sciences. Her free time is often spent hiking in the mountains, or helping out as a kayak guide on nature tours for Great Expeditions. Since 1999, Barbara has actively supported sea turtle conservation in Baja, California, MX through the Grupo Tortuguero de las Californias. She received her BA from the University of Oregon and her paralegal certificate from California State University, Hayward. She lives in Oakland, California, USA